Ahoj Veverci,

jako každý rok na jaře se blíží naše tradiční výprava Poprask na Hřib! Letos máme již čtvrtý ročník a kdo netuší, tak prozradím, že jde o oddílovou akci, na které se vždy snažíme něco procvičit nebo se něco nového naučit a odjet domů jako zkušenější a ostřílenější Veverci.:) V minulých letech jsme tak například procvičovali uzly, šifry, zdravovědu a mnoho dalšího. I když to tak možná nezní, tak je celá akce vždy velká zábava, přesvědčit se můžete dole na fotkách z minulých let..:)


Důležité informace:
V pátek před výpravou schůzka nebude, starší (vedoucí + instruktoři) již pojedou vše připravovat na kemp, s ostatními se tedy uvidíme až v sobotu ráno..:)
Sraz
: Bude blízko našeho kempu Hřib v sobotu 26.5. dopoledne v 11 hodin (Heřmánky zastávka,
dole pod článkem odkaz na souřadnice
). Tentokrát nás výjimečně nečeká společná cesta a důvod je bohužel jednoduchý, nemáme se jak na Hřib dostat v rozumnou dobu. Proto prosíme rodiče o spolupráci s odvozem. Také prosíme, aby když píšete pod článek kdo jedete na výpravu, připište i zda vás rodiče mohou odvézt autem či nikoli. Kdo odvoz nemá, napište nějaké posádce auta, kde bude ještě místo, aby vás přibrali. A to pak doplňte i sem, ať víme jak jsme na tom a jestli mají všichni odvoz.
Příjezd
: V neděli 27.5. v 11:25 na vlakové nádraží ve Staré Boleslavi.
Co s sebou:
spacák a karimatku - komu bývá zima, klidně i deku do spacáku
oblečení do lesa a pak nějaké na převlečení a na spaní
čepici - kdyby bylo chladněji nebo na noc do spacáku
šátek - stejný důvod jako čepice
batůžek (může být do dvojice, trojice)
na nohy pevné boty - budeme celý víkend v lese, takže žádné sandály
pláštěnku
čelovku
nůž
ešus, hrneček, lžíci
jídlo na celou dobu výpravy = sobota až neděle do oběda -
bude sobotní společná večeře
věci, co obvykle nosíte na schůzku (NEZAPOMENOUT, BUDOU POTŘEBA!)
zpěvníky (také důležité, budeme večer zpívat)
kartáček, pastu, mýdlo, ručník
láhev s obyčejnou vodou alespoň 1l - na vaření apod.
něco pro bráchu/ségru Veverka tentokrát na téma "První písmeno mého jména" aneb fantazii se meze nekladou, jediná podmínka je přivézt něco se stejným písmenem jako jméno Veverka (spíš něco, co se dá sníst:)). Například Gertruda by mohla přivézt grilovanou kukuřici, Bořivoj borůvky a třeba Diana by někomu mohla věnovat droždí.:)
Tak to je asi všechno co vám můžu prozradit, kdyby byly nějaké dotazy, pište sem nebo volejte komukoliv z vedoucích a
potvrďte prosím dole pod článkem svoji účast i s informací o autě.
Budu se na vás všechny těšit na výpravě!:)
Štěpka
Odkaz na místo srazu:
Souřadnice zde!
Fotky z minulých ročníků:
Poprask 2015!
Poprask 2016!
Poprask 2017!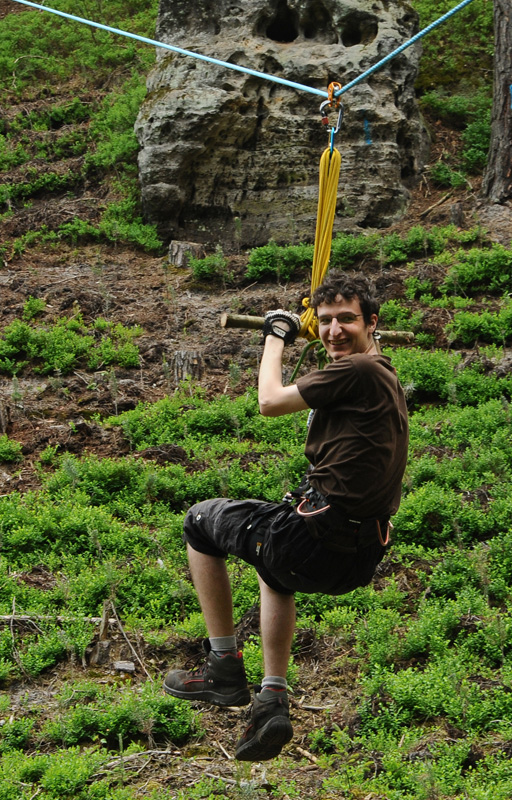 Autor:

Štěpka
Vydáno: 20.5.2018 22:21
Přečteno: 16541x